Late grilse run at Tournaig . . .
Posted: Friday 10 October, 2008 @ 12:50:03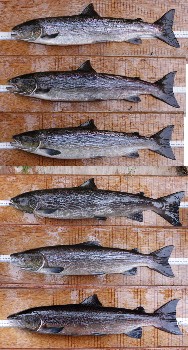 Better late than never! Over the last two days, 6 grilse (click here for high res picture), fresh from the sea, entered the upstream trap at Tournaig, bringing the total number of salmon and grilse taken in the upstream trap this year to 17. [PS: count at 15 Oct: 19]. A scale samples and a fin clip (for DNA analyses) was taken from each fish to confirm its origin. Are these fish some of the Tournaig 'smolts' that went to sea in spring 2007?
All fish were released to continue their upstream migration. In nearby rivers, rod catches of grilse have generally been lower this year (2008) than in 2007. The late grilse run at Tournaig, at the end of the angling season when some rivers have already stopped fishing, suggests that rod catches may not provide a full indication of the size of spawning stocks for respective rivers.
The Tournaig trap project is being supported by Marine Harvest (Scotland) in 2008-9.