Freshwater Habitats
Salmon, trout, eels and other freshwater fish require clean well-oxygenated water, a food supply and places to hide from predators. Most of the rivers and lochs of Wester Ross provide good habitat for adult and particularly juvenile fish.
Levels of production of fish and other wildlife in Wester Ross are limited by a lack of nutrients, particularly phosphorus. Soils are degraded and thin (as here in Beinn Eighe N'N'R). Ecosystems based on the recycling of nutrients from vegetation to herbivores to large predators and back into the soil are dysfunctional. Many catchment areas (like this one) are unnaturally barren as a result of decades of deforestation, loss of top predators, overgrazing, moor-burn and a lack of awareness and understanding of the potential to restore and rebuild more productive, biodiverse and vibrant ecosystems. Can the Scottish Government through agencies SNH and SEPA help to develop and demonstrate soil and fertility restoration methods on reserves like Beinn Eighe and thereby play a leading role in an increasingly vital global challenge or will visitors still be looking across barren, manmade rockscapes (scenically attractive though they may be to some) in another 50 years time?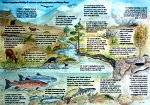 Soils, Ecosystem Fertility & Salmon Smolt Production in Wester Ross
This poster (click to enlarge) illustrates the soils, ecosystem fertility and salmon smolt production in Wester Ross.
Note that a larger Adobe PDF version is available for download, below.
To download a file, right-click over it's name and choose Save Link/Target As...