Fishes
Many of the fish species found within the WRFT area are found in Loch Maree, the largest freshwater in the WRFT area. Loch Maree is of international importance for its special wildlife and biodiversity. Until recently, thousands of large adult sea trout and salmon returned to the loch from the sea every summer. They gathered in huge numbers in certain bays, providing some of the most exciting angling in Scotland. They also enhanced the supply nutrients of marine origin to the loch by becoming food for other animals. Together with other fish species that live in the loch, sea trout and salmon are an important part of Loch Maree's near pristine ecosystem.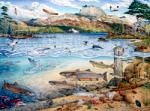 Loch Maree Fisheries and Wildlife Poster
Loch Maree is a special place for wildlife including fishes. How many animals can you find in the poster (click to enlarge) ? Look for both vertebrate and invertebrate species. If you only find 20: you are not looking carefully enough... 30 is OK, 40: well done! (Several forms of salmon and trout are shown.)
Note that a larger Adobe PDF version is available for download, below.
Copies of the poster (size A1) by artist Robin Ade with explanatory text are available from WRFT for £6 including p&p. They look particularly good in a wooden frame on the bathroom wall opposite the loo!
To download a file, right-click over it's name and choose Save Link/Target As...