'Lever and Mulch' trainees uproot rhododendrons at Inverewe
Posted: Friday 22 January, 2010 @ 17:40:13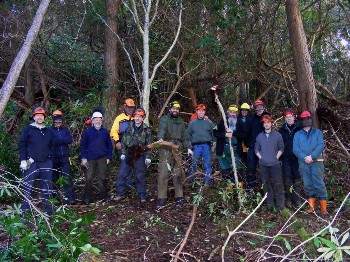 One of the most invasive non-native species (INNS) in Wester Ross is Rhododendron ponticum. R. ponticum has been spreading along banks of the Ullapool, Broom, Dundonnell, Little Gruinard, Ewe, Kerry, Torridon and Carron rivers. Over the years, WRFT fisheries management plans, particularly those for the River Broom and River Carron, have highlighted the need to control its spread. By displacing other native plants (e.g. alder, birch, rowan, willow, ling heather . . .) which provide food for many of the insects or insect larvae that juvenile salmon and trout feed on, the continued spread of ponticum is bad news for fish populations and other native wildlife.
On 21st and 22nd January, 11 participants took part in the first 'Lever and Mulch' training course, organised by WRFT and the National Trust for Scotland (NTS) at NTS Inverewe Gardens near Poolewe. Training was provided by Donald Kennedy and Gordon French of Morvern Community Woodlands, and Rob Dewar of NTS. Trainees included local estate staff, forestry contractors and countryside rangers.
Donald and Gordon have developed the 'Lever & Mulch' method for eradicating ponticum, which in many situations clearly has advantages over other methods. The complementary 'Stem injection' method (demonstrated by Rob) is particularly effective for larger stands of ponticum which can not so readily be uprooted by hand.
NTS Inverewe Gardens are famous for their collections of magnificent rhododendrons from across the world. Ponticum is the only one that has jumped the garden fence to spread into surrounding land.
Many thanks to Roy Dowcett and Kevin Ball at Inverewe for providing facilities; to Rob, Donald and Gordon for providing training, and to all the participants for supporting the event.
The training course was part-funded by RAFTS via a grant from the Scottish Government, Scottish Natural Hertitage and Esmee Fairbairn Foundation for production of Biosecurity Plans in Scotland. The DRAFT Biosecurity Plan for Wester Ross and Lochalsh can be found on the Downloads page or by clicking here.