Rediscovering wild herring in the seas around Wester Ross
Posted: Tuesday 26 January, 2010 @ 13:57:01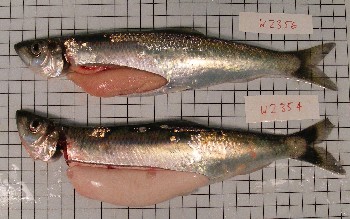 For hundreds of years, herring were fished for by local boats in many of the sea lochs around Wester Ross. Herring were as important as any other fish to the local economy; the town of Ullapool was founded as a base from which to harvest herring. Gairloch harbour, by the WRFT office, was a centre for landing and packing herring caught by drift-net and ring-net fishermen in the Minch. Then everything changed.
Following the collapse of stocks in the 1970s, there has been little fishing for herring by local boats. Local people have almost forgotten about them; freshly landed locally-caught herring can no longer be bought for human consumption within the area.
For sea trout, juvenile herring can be an important food (e.g. Pemberton, 2006; Rikardsen and Amundsen, 2004). Herring were (and possibly remain) a 'keystone' species within the coastal ecosystem, providing food for many sea birds, marine cetaceans, and for other fish species including cod and skate. Gairloch and Ullapool are premier marine wildlife tourism centres: the local economy is dependent upon healthy and productive coastal seas.
The Herring Rediscovery Project aims to find out more about local herring. A series of conversations between fishermen is being recorded to ensure that information on the past whereabouts of herrings at different times of year is not lost. This information will be used to help guide a future sampling programme to find out what remains. Can anything be done to restore local herring populations to former levels of abundance?
The Gairloch-Loch Ewe area was formerly noted for spawning herring (Bryan, Minch review, 1994). More recently, juvenile herring recorded in local sea lochs were found to be progeny of 'spring spawners' rather than the autumn spawning herring which form the basis of ICES guided herring fisheries further offshore. Like salmon, herring may 'home' back to natal areas to spawn, thereby maintaining discreet populations. Today (26th January 2010) the WRFT biologist has been photographing several freshly caught wild herring in spawning condition: a relict population, or a population which can proliferate once again?
The Herring Rediscovery Project is an initial step in a larger initiative in collaboration with Wester Ross Environment Network, Two Lochs Radio, Marine Scotland Science (Fisheries Research Services), The Highland Council and local fishermen. For support and enthusiasm to date, many thanks to Cllr Richard Greene, Kenneth Maclean, Alex Gray, Roderick MacIver, and Hector Mackenzie. The project is grant supported by the Scottish Government via RAFTS (Rivers and Fisheries Trusts Scotland).
Please contact the WRFT Biologist for more information, or if you have a story to tell.