Overwintering sea trout recorded in Loch Gairloch
Posted: Wednesday 3 February, 2010 @ 18:03:40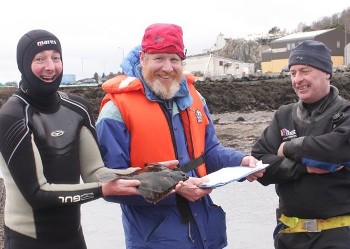 The sea lice monitoring season has started early with a sweep net sample from Flowerdale Bay, in front of the WRFT Office. The sample, taken in 1st February 2010, was one of the most successful to date and 36 sea trout were anaesthetised for examination. Most of the fish were rather lean (compared to summer months), between 270mm and 370mm in length, with fins in good condition and low numbers of sea lice (average 5 lice per fish). All fish were returned after a period of recovery.
This is the first sample of sea trout taken in the sea by WRFT during winter months, and demonstrates that some sea trout over-winter in the sea. Samples of DNA have been taken to help establish whether the fish belong to a local stream spawning population or whether they have come from further afield (e.g. River Ewe - Loch Maree system).
The sea lice monitoring programme is supported by the Scottish Government via the Tripartite Working Group (TWG). Permission to fish during the annual close time for the purpose of monitoring sea lice was provided by the Scottish Government's Marine Scotland (Aquaculture Freshwater Fisheries and Licencing Policy, Salmon and Freshwater Fisheries Department).