Alien seaweed found in Wester Ross
Posted: Wednesday 19 May, 2010 @ 10:47:19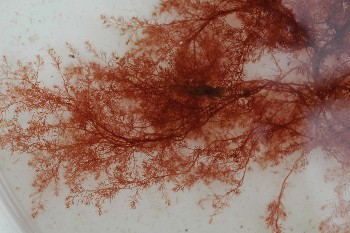 The invasive Red seaweed Heterosiphonia japonica has been found in Loch Carron (by Sue Scott). This weed has been introduced to Europe from the Pacific, and was first recorded in Europe in Brittany in 1984. It has since spread rapidly in Europe, and is now widespread in southern Norway.
In the UK, it was first recorded in Milford Haven in 1999, the 1st Scottish record was in the Moray Firth in 2004. It was first recorded on the west coast in 2008 (Loch Creran & Loch Sunart), & last year in Loch Laxford. The main vectors of spread are movement of oysters, and ballast/other ship water (fishfarm wellboats prime suspects). It can reproduce vegetatively from very small fragments. Cages of oysters have been placed here from the Moray Firth so I suspect that is the source here - it may have been here for a while without me noticing, but it is so abundant this year I couldn't miss it!
We are not sure what effect it has/will have on native seaweed flora, but it is very vigorous, and can grow on a wide range of substrates (including shell & stones in sand, & maerl, the most interesting habitats here), and takes over large areas of seabed, so must have some competitive effects. By now it will probably be in a sealoch near you... and Sargassum just down the road!
Please report any further sigthings around Wester Ross to WRFT or SNH area office (01445 760 254).
Many thanks to Sue Scott for this news item.
[PS: Heterosiphonia japonica was found in Loch Gairloch on 29th May 2010, during an ROV survey of the loch led by Barry Blake, Sue Scott and Aaron Forsyth (ROV operator)].