Wester Ross wins in Wessex
Posted: Wednesday 9 June, 2010 @ 16:23:13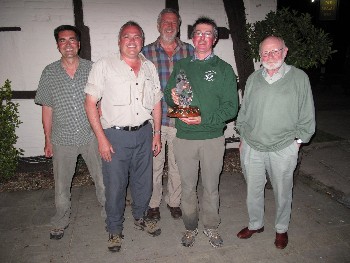 The RAFTS Challenge Trophy has returned to the top of the filing cabinet in the WRFT Office after a memorable competition on the Hampshire Avon, organised by the Wessex Salmon and Rivers Trust. The event took place on 22 May on Somerley Estate waters around the village of Ibsley, and was organised by Pete Reading of WSRT. Wester Ross Fisheries Trust was represented by life members Nick Benge, Dr Steve Kett, Carl Forbes and WRFT Biologist Peter Cunningham.
Like the Little Gruinard River, the Hampshire River Avon is a Special Area of Conservation (SAC) for Atlantic salmon (Salmo salar) and typically ~100 salmon are caught and released by rods from the river each year. But that is about where any similarity ends: the Hampshire Avon is a beautiful chalk stream which flows through water meadows rich in wildlife. For the first time, Peter came face to face with a mayfly (Ephemera danica), saw many Banded demoiselle, and 2 Hobbies which hawk dragonflies over the water. We saw kingfishers, and watched dace, large barbel, and chub in the river, one of the latter which rose to a dry fly.
We met estate manager John Levell who told us about the management of the river and the floodplain; and the threats to salmon from pressure to abstract more water from the catchment area, and from periodic escapes of farmed fish. The Avon is noted for a run of large MSW spring salmon; by mid-summer water temperatures rise to critical levels; windows of opportunity for salmon migration are becoming smaller as summer temperatures rise.
After a morning exploring one of the back channels and the main river amidst much wildlife, Carl escorted us on a tour of his riverside watermeadow where British White cattle are being used as part of a 'stewardship scheme' to restore wildlife habitats. With clear skies and temperatures into the high 20oCs, the cattle joined us for a dip in the river!
Then back to Ibsley for an evening session. Although WRFT was the only team entered, the challenge, to catch a trout, was indeed a difficult one. Late in the evening, as light was beginning to fade, a fine brown trout of about 35cm was taken from the main river on a size 12 Grey duster by Peter using his 'competition rod' (the butt section of which is part of his grandfather's split cane rod).
Thank you very much to Pete Reading for organising the event and to Carl Forbes for accommodation in the nearby fishing guest house. Click here for more photos.
The 2011 RAFTS Challenge will take place in Wester Ross over the weekend of 27-28 May. If you are a member of your local fisheries trust, we hope you will be able to join us.