Sea trout sampling underway
Posted: Friday 18 June, 2010 @ 10:58:29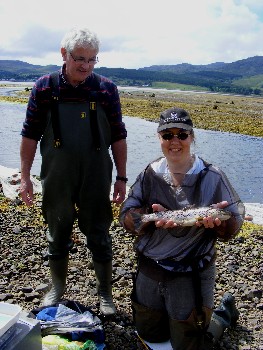 The sea lice monitoring season is now underway and sweep netting teams have been sampling sea trout in the sea and river estuaries around Wester Ross. Over the past two weeks sea trout have been successfully caught in Gairloch, Loch Ewe and in the estuary of the River Carron. At Boor Bay, most of the fish have been small sea trout of less than 20cm, with few if any sea lice on them. Some of these fish may have only been in the sea for a few days.
In Loch Gairloch we caught some larger fish. Nearly all the fish caught have had sea lice on them, a high proportion of which are older pre-adult and ovigerous female lice. Two of the sea trout caught in Kerry Bay had been marked and were possibly fish taken in Flowerdale Bay in February earlier this year. We already know that some sea trout overwinter in the sea (or estuaries) in Loch Gairloch. Another yellowish trout of 59cm is the largest trout seen by the WRFT biologist in Wester Ross to date; photos of this fish and its scales can be found under High Resolution Photos on the downloads page, or by clicking here.
Some good trout were also caught in the mouth of the River Carron; sea lice numbers have been generally low so far this year and of no cause for concern. Some of these fish were yellowish; others were bright silver; suggesting both estuarine and fully marine sea trout (if we assume that colour relates to life habitat?).
There have been sizable shoals of larger sandeels in some sea areas around Wester Ross feeding on dense patches of zooplankton; Basking sharks have also been seen close inshore in the same areas.
Rivers are still very low: rain is needed to allow salmon to enter the rivers.
The sweep netting programme is funded by the Scottish Government via the Tripartite Working Group. Sea lice data is collected primarily to inform local Area Management Groups. Please contact Peter Cunningham (info@wrft.org.uk) or Dr Donna-Claire Hunter, the Regional Development Officer (Donna-Claire@btconnect.com) if you would like further information or would like to help with a sweep netting session.