Mekong dams threaten some of the world's largest freshwater fish species
Posted: Thursday 29 July, 2010 @ 00:08:54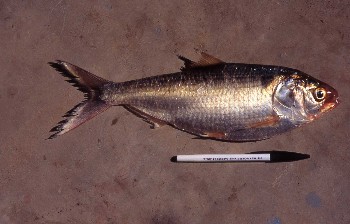 2010 is International Year of Biodiversity. Our freshwater fish fauna in Scotland is restricted to about 42 species, including some which have been introduced and others which only briefly enter freshwater (Maitland, 2007).
From 1996 to 1998, WRFT Biologist, Peter Cunningham worked as a VSO volunteer with the Lao Community Fisheries and Dolphin Protection Project (latterly the Siphandone Wetlands Project). Based at Ban Hang Khone on the banks of the Mekong River opposite Cambodia, he collected fisheries data with local villagers, and supported community fisheries co-management initiatives including the designation of village based fish conservation zones. The area has some of the world's most spectacular freshwater fishes and traditional fisheries around the Khone Falls, which are a major obstacle to fish migration.
Over 200 species of fish were recorded in the area, many of which are migratory and Mekong endemics (found nowhere else in the world). A series of hydropower dams is currently being planned for the Mekong River. One of the proposed dams, at Don Sahong (close to where Peter was based), will block the Hou Sahong, the most important channel for migratory fish across the line of waterfalls at Khone.
WWF have just published a report explaining the threat to some of the Mekong River's giants from hydropower projects. After a day of sweep netting for sea trout in front of the office here in Gairloch (more about that later), I have prepared a brief report which, in ten pictures, explains some of my own concerns for the fishes of the Mekong. This can be found on the downloads page or by clicking here.
Picture, the 'Mekong herring (or shad), Tenualosa thibeaudaui, was formerly common in the area. The fish shown was caught in nets near the village during the dry season in 1997. Formerly, it migrated upstream from Cambodia in large numbers at the same time as shoals of small cyprinids. I found juvenile T. thibeaudaui in catches from beach seine nets at Pakxe market.