Little Gruinard River Fisheries Management Plan 2011+
Posted: Thursday 3 February, 2011 @ 14:10:53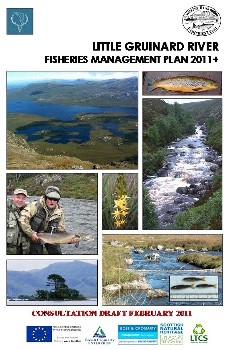 The Little Gruinard River is located in Wester Ross in North West Scotland and drains rainwater from a 'wilderness' area of mountainous 'deer forest' into the sea at Gruinard Bay, about 18km as the eagle flies to the west of the town of Ullapool. This document focuses upon both the remarkable wild salmon of the Little Gruinard River and the wild trout of the Fionn Loch. Information is drawn together from previous studies, including 'The Little Gruinard Atlantic Salmon Catch and Release Tracking Study' (Walker and Walker, 1991), contemporary studies of Brown Trout, and more recent surveys of habitat and juvenile fish populations within the Little Gruinard River system carried out by the Wester Ross Fisheries Trust.
The Little Gruinard River is the only Special Area of Conservation (SAC) for Atlantic Salmon (Salmo salar) in the west of mainland Scotland between the River Naver in Sutherland and the River Endrick in Strathclyde. The Little Gruinard is therefore of particular importance for securing the conservation of a native wild salmon population in this part of Europe for future generations.
Proposed actions in the Fisheries Management Plan are aimed at maintaining favourable status for the Atlantic Salmon SAC, for conserving and learning more about wild Brown Trout, Arctic Charr and Freshwater Pearl Mussel populations, and for restoration of ecosystem fertility within the catchment area.
The Little Gruinard River Fisheries Management Plan 2011+ can be downloaded in 5 sections:
PLEASE NOTE THAT THE FORMAL PERIOD OF CONSULTATION IS NOW OVER: THESE ARE LINKS TO THE COMPLETED PLAN
Part 1 and 2 (Introduction and Ecology)
Part 3 (The Little Gruinard River)
Part 4 and 5 (Salmon and Trout Fisheries)
Part 6 (Juvenile salmon and trout populations)
Part 7 and 8 (Habitat and Juvenile fish production; Draft Management Recommendations)
The formal consultation period ended on 10 March 2011. Please email any further comments to Peter Cunningham at info@wrft.org.uk, or telephone 01445 712 899.