Smolt migration delayed for second year by drought
Posted: Monday 2 May, 2011 @ 15:00:19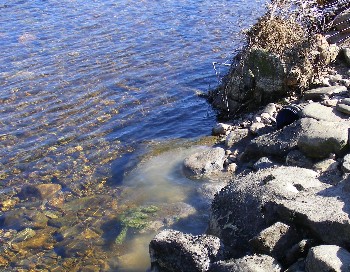 The headline story today (2nd May) is of wildfires burning within the WRFT area: in Glen Torridon (said to have spread from camper's fire), near Dundonnell, and along Glen Shiel in Kintail. After one of the warmest Aprils on record with temperatures in Gairloch reaching 23oC on 22nd April (see weather records at Two Lochs Radio weather station), the ground has dried out and water levels in many burns have quickly dropped to low summer levels. Smolts migrating out of some of the larger rivers may have reached the sea unhindered; however fish in smaller rivers like Tournaig, Shieldaig and Sguod are currently unable to reach the sea, with at least half the anticipated smolt run still in freshwater.
Following a wildfire or muirburn, when it rains, large amount of ash can be washed into watercourses, settling in pools or lochs. Near Gairloch, Lochan nam Breac and Linne a' Mhuilinn support lush growth of water plants, and may have been inadvertently fertilised in this way.
The picture above is of the Kinlochewe waste water treatment works outflow which discharges into the Kinlochewe River just below the confluence of the Bruachaig and the A' Ghairbhie. The picture was taken last week (27th April). So long as the discharge is adequately diluted, added nutrient may increase the supply of food for fish. Below the discharge, the river bed supports a matt of green moss and algae. In 2009, salmon fry in the river below this location were 1cm longer than above the discharge: see WRFT Review 2010 page 12.
However, what happens during periods of very low flow and warm sunny weather? Later this year, WRFT will carry out a survey of juvenile salmon in the Kinlochewe River.
If you suspect pollution is harming freshwater or marine life, please contact the Scottish Environment Protection Agency:
SEPA's Pollution Hotline - 0800 80 70 60 - available 24/7