Brown Trout containing partly digested Minnow caught in Sguod system
Posted: Monday 2 May, 2011 @ 15:02:21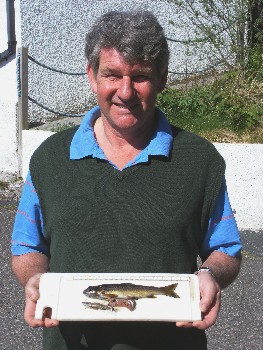 It is common knowledge that trout eat minnows. However, conclusive proof that minnows are actually consumed and not just spat out by trout has been difficult to find. One fisheries biologist with several decades of experience and 'stomach content' analyses said that he'd never found a minnow in a trout's stomach. So we spread the word that we were looking for evidence that trout do, indeed, eat minnows.
This morning WRFT Trustee, Mark Williams, provided the evidence. The minnow inside the trout was rather large, over 7cm long; the trout that had eaten it rather small (less than 20cm, small enough to become a sea trout smolt). Bigger trout (to 2.5lbs) have already been taken this season from permit lochs in the Gairloch area on artificial flies, no need for minnows if you are after a good-sized fish. Please click here (or go to the downloads page) for a close up picture of the trout and minnow.
The illegal practice of using minnows as 'live bait' is assumed to have been responsible for the introduction of minnows to several river systems in Wester Ross. This is not good news for populations of native fish such as Arctic charr whose eggs are laid on gravel in the sides of lochs, and may be taken by minnows.
Yesterday I watched a pair of Black-throated divers on one of the hill lochs. Take care not to disturb breeding divers: until the end of June eggs may be left unattended if an angler inadvertently stumbles upon a nest. There are plenty of lochs to choose from – best to move on.
*I've found this paper published last year which describes how trout changed their diet to include minnow following the arrival of minnow. Similar changes may have occurred / be occurring in Wester Ross lochs.
Borgstrøm, Reidar, Jon Museth and John E. Brittain (2010) The brown trout (Salmo trutta) in the lake, Øvre Heimdalsvatn: long-term changes in population dynamics due to exploitation and the invasive species, European minnow (Phoxinus phoxinus) Hydrobiologia Volume 642, Number 1, 81-91, DOI: 10.1007/s10750-010-0161-7
SUBALPINE LAKES.
http://www.springerlink.com/content/33716l3m56521m10/