Tweed Foundation reclaims RAFTS Challenge Trophy in Wester Ross
Posted: Saturday 28 May, 2011 @ 13:29:35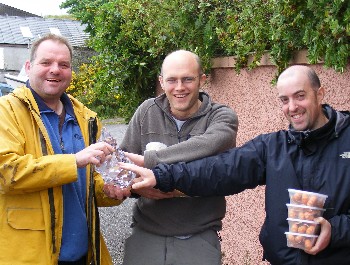 After late call offs from other fisheries trusts, the 2011 RAFTS Challenge was contested by James Hunt, Kenny Gault and Nick Benge representing the Tweed Foundation; and Greg Jeffries, Garry Bulmer and Peter Cunningham representing Wester Ross Fisheries Trust, fishing for brown trout and aquatic invertebrates in the hill lochs by Loch Ewe. WRFT Life Member, Nick Benge, agreed to join the Tweed team to even out numbers: 3 against 3.
Weather conditions were as unpleasant as Wester Ross can provide in May with increasingly heavy rain and strengthening wind as an Atlantic depression moved in at the outset. Nevertheless, both teams persevered and caught trout. The Tweed won the competition by a large margin recording 25 trout from their lochs vs. only 4 taken by the WRFT team. All returned at the end of the first day, except Nick who fished on into Saturday as originally planned, following a night in a nearby bothy.
The biggest trout caught were fish of 30cm taken by James and Nick. The most successful fly was a bibio, with which both teams caught trout.
The Tweed Foundation team also recorded the longest list of invertebrates, which were identified down to family or species level by Kenny in the WRFT office on Saturday morning:
Mayflies: Paraleptophlebia sp.; Procloeon sp.
Caddisflies: Polycentropididae; Limnephilus sp.
Damselfly: Ishnura elegans
Dragonfly: Aeshna juncea
Water beetles: Dytiscidae; Gyrinus sp.
Bugs: Corixinae
Gammarus was also found in one of the lochs.
Thanks to all participants for attending the event, and Iain McWhinney of Dry Island Shellfish for presenting the trophy at short notice!