Kinlochewe workshop focusses on how to revive catchment vegetation to protect salmon rivers
Posted: Wednesday 3 May, 2023 @ 08:06:41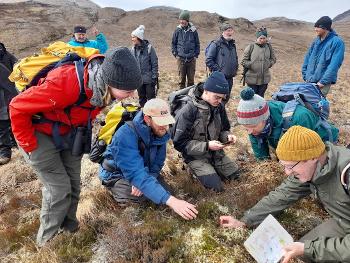 Most of Wester Ross is underlain by some of the oldest, hardest and most insoluble rocks in Europe. Vegetation and soils have been eroded away especially from many upland areas. This workshop considered how to restore vegetation cover to make catchment areas better able to soak up rainwater and to make rivers with wild salmon populations more resilient to more intensive rainfall events associated with climate change. Flash flooding can cause washout of salmon eggs, juvenile fish and other wildlife from river habitats.
Participants visited Beinn Eighe NNR on 25th April to learn about associations between biodiversity and mossy hummocks, and to revisit Donald McVean's fertilised (with rock phosphate in 1961) plots at an altitude of about 300m, by the Pony Path. Nearby hummocks are places where nutrients have been provided by birds and other animals, promoting the growth of diverse mosses and other plants and creating habitats and food for many more animals than in the surrounding relatively barren quartzite-gravelly ground. Carbon-rich peaty soils are deeper beneath hummocks demonstrating how carbon sequestration can be faster where scarce nutrients become concentrated by what remains of the 'natural' ecosystem.
The workshop at Kinlochewe Village Hall on 26th April included presentations on how to make rivers more resilient, peatland restoration, red deer management, native woodland restoration, a presentation and discussion about the importance of mycorrhiza and a discussion about how to leave the land in better condition.
In addition to facebook recordings of presentations which can be found here; https://www.facebook.com/WRFT22 , pdf's of presentations (except James Merryweather's – video link see below) can be found on the WRFT website on the downloads page at https://www.wrft.org.uk/downloads/files.cfm?id=48.
Individual presentations from the workshop on 26th April can be found as follows:
Discussion groups:
A new poster was prepared for the meeting entitled peatland nutrition, hummock formation and carbon sequestration, showing some of the animals associated with peatlands in Wester Ross. This poster can be found with other posters on the downloads page or here: https://www.wrft.org.uk/downloads/files.cfm?id=13
Thank you to everyone who came along to the meeting and to the Wester Ross Area Salmon Fishery Board for support.