New on-line Angling Diary launched
Posted: Thursday 2 February, 2012 @ 10:08:58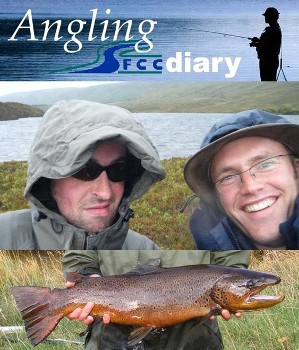 Angler's diaries and logbooks have traditionally been used by a small number of dedicated and perhaps rather obsessive anglers to record their angling experiences. In his teens, WRFT Biologist, Peter Cunningham, diligently recorded all his fishing expeditions, including weekend cycle trips to the Tweed and holiday expeditions to hill lochs with tent. Details were faithfully recorded, along with photos of the catch [for reasons which still defy explanation, now and then a decent trout or salmon attached itself to the end of his line . . . .]
There is much pleasure in recollecting fishing expeditions of the past! However, anglers' diaries can also provide fisheries biologists and managers with useful insight into fishing practices and the numbers and sizes of fish caught in waters for which there is little other information (for example, hill lochs in Wester Ross).
Taking the traditional angling diary into the 21st century, The Scottish Fisheries Coordination Centre (SFCC) has developed an online angling diary (www.anglingdiary.org.uk) which allows anglers to record their catches of freshwater, game and coarse fish in the UK. Utilising the benefits of the World Wide Web, the new site allows anglers to record their catches online, retrieve them as required, share them with other anglers and look at them on an interactive map. Pictures can also be added and there is also an anglers' blog with fishing reports for local areas. In return for all of these benefits, Trust Biologists can make use of diary records for their respective areas to better understand the fisheries that they are responsible for.
To find out more about the site or start entering your catches, please log on to www.anglingdiary.org.uk.
Please let us know what you think of the new site. At the end of the 2012 fishing season, WRFT will award a prize to the angler who has contributed the most useful information for waters within the WRFT area. Please contact info@wrft.org.uk for further details.
Tight lines!