WRFT Review July 2012 published
Posted: Thursday 5 July, 2012 @ 17:48:47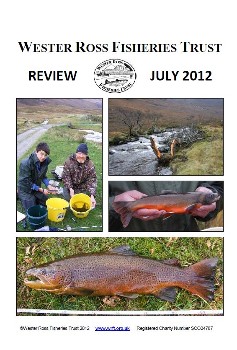 The latest Wester Ross Fisheries Trust annual review can be found via the downloads page under 'reports' or by clicking here.
The review provides a summary of the results of juvenile fish surveys in 2011, analyses of rod catches focussing on salmon for some of the major rivers within the area, information about sweep netting for sea trout and other work in the marine environment, articles about interviewing herring fishermen, arctic charr, lampreys, mink and education project.
As always, one of the purposes of the review is to thank all those who have supported the work of WRFT over the past year including funders, local estates, ghillies and anglers, and many volunteers.
We're well into another field season here in Wester Ross: currently sweep netting for sea trout is our main activity. If you would like to help with sweep netting or to have a day with a WRFT juvenile fish survey team during the summer and autumn 2012, please contact one of the WRFT biologists at info@wrft.org.uk.