Great White Shark tooth (?) found to west of Gairloch, Wester Ross
Posted: Friday 20 July, 2012 @ 16:46:36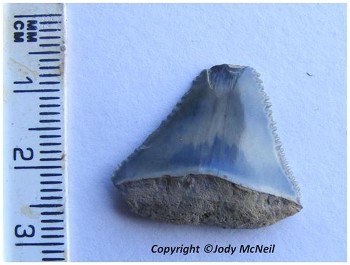 This tooth was recovered from a creel lifted from the seabed to the west of Gairloch by local fisherman Jody McNeil in mid July 2012. The tooth looks like that of a Great White Shark, for which there are a few Scottish records according to Dr Neil Clark of the Hunterian Museum, University of Glasgow. The colouration of this tooth and the colour of the base of the tooth suggest that it has been on the seabed for many years, and possibly becoming part-fossilised.
A higher resolution picture can be found on the downloads page under 'high resloution photos', or by clicking here. [PS: The picture has been temporarily removed, and will appear again later in the summer!!].
One possibility is that the tooth is from a shark that swam in nearby waters during a warmer period, following the last period of glaciation, or during an interglacial period in the Pleistocene. Please let WRFT Biologist, Peter Cunningham, or Jody know what you think!
Many thanks to Jody of www.northwestcruises.co.uk for recovering the tooth, and Dr Clark for help with identifying it.