Breeding seabirds threatened by invasive mink on nesting islands around Wester Ross
Posted: Thursday 21 November, 2013 @ 17:43:25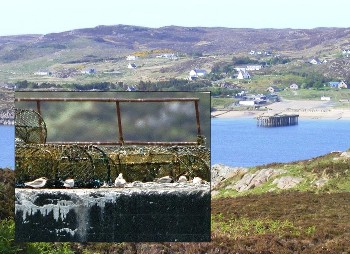 During the summer and autumn of 2013 over 20 non-native North American mink were trapped in the Loch Ewe – Gruinard Bay area. This is the highest number of mink that have been taken within the area to date, demonstrating that numbers may still be increasing within the area. Our principle concern is for ground nesting birds, including Red-throated diver, Shelduck, Eider, gulls, terns, Curlew, Lapwing, Oystercatcher, Ringed Plover and Black Guillemot. Mink are also a threat to water voles, domestic poultry and freshwater fish.
In 2012, over 100 Common tern chicks were fledged on the old concrete pier at Mellon Charles. In 2013, terns failed to breed here; initially we assumed that the terns had gone elsewhere due to a lack of food fish in nearby waters. However, during the summer of 2013 mink were recorded on the shore within 1km of this site.
With support from the Scottish Government via RAFTS, Wester Ross Fisheries Trust has taken on the responsibility of controlling mink within the Loch Ewe area during the next 6 months as part of the Scottish Mink Initiative [SMI]. Prospects of success depend upon levels of support from volunteers living within the local area, including an existing network of trappers who have already put much voluntary effort into controlling mink.
A co-ordinated approach is vital if ground nesting birds are to be protected in 2014. On 3rd and 4th December 2013, SMI project Coordinater, Ann-Marie MacMaster will be running workshops for existing volunteers and anyone else who is actively interested in volunteering to help with controlling mink within the area in 2014.
Please contact the WRFT Biologist, Peter Cunningham at info@wrft.org.uk for further information.