Sea trout sampling underway
Posted: Tuesday 17 June, 2014 @ 12:13:03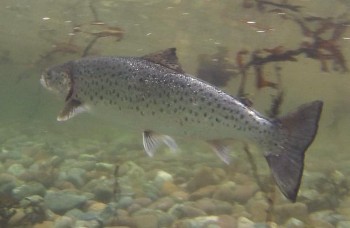 During the long days of June, sea trout are able to feed around the clock and gain weight faster than at any other time of year. In recent years, WRFT sweep netting teams have caught samples of sea trout at several sites in Wester Ross at this time of year to find out about the growth and condition factor of sea trout, and the numbers of parasitic sea lice on the fish.
Spring 2013 was cold and sea trout were late in migrating to sea. Parasitic sea lice numbers on some of the farms around Wester Ross were high (as reported by SSPO). On wild sea trout at sampling sites in the Loch Broom and Little Loch Broom area, many lice were recorded with some post-smolt sea trout carrying several hundred lice.
This year (2014), the weather has been milder with enough rain to keep most of the rivers from drying up. So far this year signs have been better for sea trout and for the terns breeding on some of the islands around Wester Ross.
Sea trout sampling is currently underway. Over the past week sea trout have been taken using the sweep net in Flowerdale Bay, Loch Gairloch; from Boor Bay, Loch Ewe and the River Kanaird estuary. Few fish have been caught. At Flowerdale, 10 post-smolt sea trout were taken. These fish were still rather small (mostly less than 20cm long) though quite fat, and carried few sea lice.
At Boor Bay, only two sea trout were taken. These were larger fish: 39cm and 39.5cm respectively; they should be over the 2lb mark later in the summer (they may head for Loch Maree!). They also carried few lice and were in good condition, and possibly had been feeding on juvenile gadids (coalfish and pollack) which were also recorded.
In the River Kanaird estuary yesterday (16th June) we had to work hard (3 sweeps) to catch just 9 small post-smolt sea trout (all less than 25cm). In contrast to last year, these fish carried very few sea lice (most fish had no lice on them). No larger sea trout were caught; we hope the larger fish are currently further out at sea feeding.
Sampling will continue at these sites every two weeks until the middle of July. Please contact WRFT Biologist, Peter Cunningham for more information info@wrft.org.uk .