Shrew found in stomach of small trout
Posted: Friday 10 July, 2015 @ 19:06:16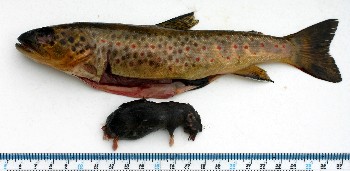 As part of his PhD project to investigate the occurrence and molecular biology of macroparasites in brown trout in Wester Ross, Middlesex University student, Toby Landeryou, found a shrew inside this trout. The trout was caught in a small burn in the hills near Gairloch on 9th July 2015.
This is the first time we have found a shrew inside a trout of this size; it represents a somewhat larger meal than the size 20 dry fly which was used by Dr Steve Kett to catch the trout! We are currently examining the shrew to confirm its identity
Further information about the diet of brown trout in Wester Ross can be found via links under the brown trout tab on this website.