Some observations of sea trout in spawning burns within the Loch Maree catchment area
Posted: Thursday 17 December, 2015 @ 17:41:28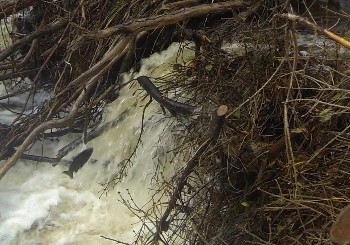 In recent years, anglers fishing Loch Maree have recorded as many brown trout as sea trout in their catches in contrast to years prior to 1990 when sea trout were most numerous. Many of the sea trout caught have been taken at the Kinlochewe end of the loch suggesting that the main spawning grounds for sea trout are in the headwaters above Kinlochewe.
On 1st November, trout were seen in three spawning streams around Loch Coulin including a ~40cm female sea trout in one of the smaller burns, several trout (including at least one sea trout) in the 'farmhouse burn', and a large hen sea trout of 50+ cm cutting by a newly formed redd in the Coulin River where vehicles had been crossing the river earlier in the year preparing foundations for a new Bailey Bridge.
The contractors were subsequently informed and the Bailey bridge was completed and rolled into position without any further disturbance to the streambed here. On 25th November salmon were observed in the same place, with two large new redds (presumably of salmon) located beside the female sea trout redd.
These observations and others nearby highlight the continued importance of spawning streams around Loch Coulin for both sea trout and salmon production; and perhaps also that both sea trout and salmon sometimes like to spawn where the streambed has been loosened up a bit by a large vehicle!
One of the spawning burns around Loch Maree which local anecdote has always suggested was of importance for sea trout is the Slattdale burn. This burn flows through the Slattadale forest to enter Loch Maree close to the public car park at the end of the footpath to Tollie.
Fifteen years ago, with support from the Hugh Fraser Foundation and Dulverton Trust, WRFT together with the Forestry Commission embarked on a project to clear non-native conifers back from riparian areas to allow more light to reach the stream and promote the growth of native deciduous trees such as alder, willow and rowan along the stream banks. The aim was to improve the habitat along this burn for production of juvenile trout and salmon.
Since then much has been achieved. A mix of mainly deciduous trees and bushes have grown up along riparian areas, providing much improved habitat for a diversity of wildlife. The Forestry Commission has also developed an attractive new footpath through the cleared area, not far from the burn. Other parts of this woodland are being redesigned as native woodland for wildlife and amenity, retaining some areas for commercial timber production. For people visiting Loch Maree, the Slattadale woodland now provides scope for a wide variety of activities.
WRFT electro-fishing teams have routinely recorded both juvenile salmon and juvenile trout within this burn. However, we've been uncertain as to whether the juvenile trout found in recent years were progeny of sea trout or brown trout which remain in Loch Maree.
On 9th November 2015 following a heavy spate, trout were observed and videoed jumping over a brash dam not far from the footpath (right). Observations suggested that both brown trout and sea trout were running up the burn to spawn. However, it was not possible to be entirely sure whether or not sea-going trout were present in addition to loch (Maree) brown trout.
So on 11th November, 12 trout were carefully sampled from some of the pools using electro-fishing equipment (with a special licence from the Scottish Government), taking care to keep away from places where eggs may have been buried. Scale reading confirmed that the only female trout in the sample, a fish of 362mm, was indeed a sea trout, which had returned to freshwater after a second summer in the sea.
Five male sea trout were also taken; 2 finnock of 255 & 260mm, and three larger sea trout of 350mm, 352mm and 390mm (all 2 sea summer fish). The remaining 6 trout had not been to sea; these included the oldest trout, a fish of 365mm in its 8th year (with one or more spawning marks).
After recovering from anaesthesia, all the trout were returned to the river.