Loch Maree ghillies' tales to be broadcast on Two Lochs Radio
Posted: Monday 29 May, 2017 @ 03:56:50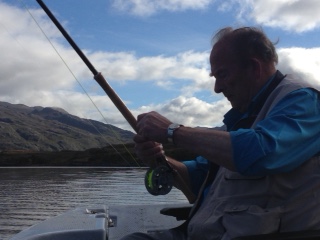 Wednesday 31st May, 21:00 – 21:30hrs & Sunday 4th June, 20:00 - 20:30hrs [rpt]
Over the past couple of years, Sue Pomeroy has interviewed some of the ghillies with many years of experience of taking guests fishing for sea trout and salmon on Loch Maree and on other local waters.
In this, the first of an occasional series of programmes, Sue talks with Ian Cross of Lochcarron who was formerly a ghillie on Letterewe estate, Kinlochewe estate and Loch Maree.
To listen to the programme, please tune your radio in to:
106.0FM & 106.6FM in the Gairloch, Poolewe, Aultbea, Laide, Loch Maree & Kinlochewe areas
96.8FM & 102.2FM in the Loch Broom area
101.8FM in the Shieldaig and Torridon area.
Or listen to the programme online via the link on the Two Lochs Radio website at http://2lr.co.uk/index.htm .
Thank you very much to Ian and Sue for recording the conversation, to Gairloch Heritage Museum and everyone else who has supported the ghillies' interviews project to date; to Anne Gray and Two Lochs Radio for producing the programme, and to local musician Conal McDonagh for providing the original title track 'Bank's Pier'.