Skye and Wester Ross Review February 2018 published
Posted: Tuesday 6 February, 2018 @ 02:21:26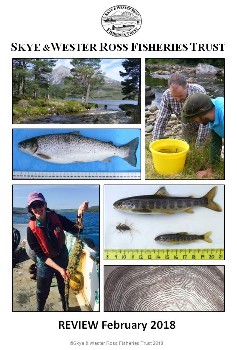 The Skye and Wester Ross Fisheries Trust review summarising much of the Trust's work and related activities during the period June 2016 to December 2017 (inclusive) can be found on the downloads page of this website or by clicking here.
This review is the first following formal merger of the Wester Ross Fisheries Trust and the Skye Fisheries Trust in 2017. The review presents a summary of information describing the status of wild salmon and sea trout populations, including rod catch analyses and juvenile fish surveys, and includes sections on sea trout, sea lice monitoring and salmon farming; reports from the Wester Ross Area Salmon Fishery Board; a summary of activities on the Isle of Skye; some related marine issues; contract work, including invasive non-native species control within the Wester Ross area; and summaries of other awareness raising, research and education related work.
Thank you very much to all the members, volunteers and everyone else who has supported our work over the past 18 months.
If you have any comments or questions about our work, please contact Peter Cunningham (Biologist) at info@wrft.org.uk, Peter Jarosz (Administrator) at admin@wrft.org.uk , or Isabel Moore (PhD student & Biologist) isabelmoore89@gmail.com.
There are many opportunities for Trust members and other volunteers to get involved with surveys and monitoring work on the mainland and on the Isle of Skye, mostly between April and November. For more information, please contact the Trust at info@wrft.org.uk.
Link to SWRFT Review February 2018:
http://www.wrft.org.uk/files/SWRFT%20Review%20February%202018%20Final%20for%20web%20V2.pdf