Gairloch seashore & snorkel trail discovery day
Posted: Friday 22 June, 2018 @ 05:01:14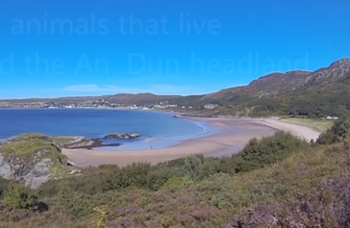 Wednesday 11th July 2018, 10am to 4pm
Gairloch Golf Course Beach
Come along & find out about the amazing diversity of marine wildlife!
How many different kinds of crab and starfish live around An Dun? How many fishes inhabit the low-tide lagoon? How fast does a sea hare move? Who eats what?
We'll explore the seashore using assorted nets including the SWRFT sweep net and other sampling equipment to look for animals living in the sand and in the shallow water around the headland nearby.
Peter Cunningham (Skye & Wester Ross Fisheries Trust biologist), Noel Hawkins (SWT Living Seas Project Officer) and Dr Mike Kendall (marine biologist) will all be on hand to help with activities on the beach, and with identification and explanation of the animals, their habitats and ecology.
Introductory family snorkelling safari sessions at the far end of the beach will be led by Noel Hawkins (SWT Living Seas Project); warm drysuits will be available for hire from Guy Melville (Happy Diver UK - drysuit rental & sales).
Please book your snorkel session in advance to ensure your place (numbers limited).
To book a guided snorkelling session and equipment, please contact:
For further information, please contact:
For more information about the Scottish Wildlife Trust's NW Highlands Snorkel trails, please find here .
https://scottishwildlifetrust.org.uk/wp-content/uploads/2016/10/002_433__snorkelleafletforwebsitecompressed_1467814099.pdf
For more information about snorkelling around An Dun (Gairloch) snorkel trail, please find here
http://www.wrft.org.uk/files/An%20Dun%20%20Snorkel%20trail%20v15Apr%2015.pdf
A notice can be found here:
http://www.wrft.org.uk/files/Gairloch%20Seashore%20and%20Snorkel%20Trail%20Discovery%20day%20notice%20FINAL.pdf