Recently hatched herring larvae sampled by Gairloch
Posted: Friday 13 May, 2022 @ 15:56:18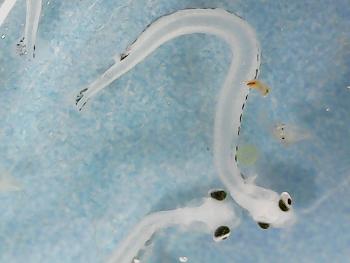 In March and April 2022, WRFT, in collaboration with West of Scotland Herring Hunt (WOSHH), Gairloch Ecocentre, Gairloch Museum and Aberdeen Science Centre, set about learning more about the herring which spawn nearby.
In 2018 and 2019, herring eggs were recorded by divers on the seabed near Gairloch (see https://www.wrft.org.uk/news/newsitem.cfm?id=224).
In March 2022, an exhibition entitled 'On the hunt for herring' was prepared and displayed at Gairloch Museum to support the concurrent Global Shorelines exhibition. Our focus was on the ecology of spring spawning herring and the maerl gravel seabed habitats upon which herring have spawned in previous years. Maerl (red calcareous twig-like coralline algae) is one of the main priority features for which the Wester Ross Marine Protected Area was designated, and covers large areas of the seabed around Wester Ross. However because maerl is seldom seen, few local people know about maerl. So we were able to display maerl and provided supporting information.
In parallel with the exhibition, sea water samples were collected and filtered at Melvaig and near South Erradale as part of a pilot study by WOSHH using eDNA (environmental DNA) analytical methods.
In previous years, herring shoals attracted hundreds of gannets and other wildlife at spawning time. This year, there were reports of only small numbers of gannets in early March; then of larger numbers of gannets and other seabirds on 25th and 28th March, all within 2km of the shore to the west of Peterburn – Melvaig. Porpoises, seals, and many other seabirds (gulls, razorbill, guillemot, divers . . .) were also present. A scallop dredger was active in this area in early March.
To support both the exhibition and inform the eDNA study, marine plankton samples were collected and examined for herring larvae using microscopes set up in the museum. The microscopes were part of a series of activity sessions during the school holidays for visitors in partnership with Aberdeen Science Centre's community outreach coordinator, Fiona Mackenzie.
In early April, the plankton samples collected from Loch Gairloch contained a diversity of zooplankton (mostly ostracods) but no fish larvae. On 14th April, the sea to the west of Melvaig was calm enough for sample collection from a sit-on-top kayak. Many tiny fish larvae could be seen in the 'glassy' water within 500m of the shore. Some of these were collected using a plankton net, and shown to visitors at the museum the following day.
A subsample was sent to Marine Scotland Science who confirmed that the fish larvae were indeed herring, estimated to be 3 to 4 weeks old, confirming spawning by herring somewhere nearby in March.
Larval herring are an ideal food source for sandeels (hence much seabird activity in recent weeks) and post-smolt salmon. The abundance of larval fish may be a factor affecting the growth and survival of juvenile salmon (c. Utne, 2021).
Thank you to Fiona Mackenzie (ASC); the Gairloch adult learning team; Dr Michelle Frost and Prof Karen Diele (WOSHH); Liz Jackson and Alex Gray (Gairloch Ecocentre), Emma Watson (Nature Scot trainee with WRFT), Jen Shaw and the Gairloch Museum team, Dr Campbell Pert and colleagues (Marine Scotland Science), Dr Clive Fox (SAMS), Dr Edward Farrell (Killybegs Fishermen's Organisation), Dr Sarah Cunningham (Nature Scot), Alison McLennan (RSPB), Dr Colin Bull (AST) and local observers (esp. PL, TJ, PS, CP, ID) for much help with the exhibition and for reporting associated wildlife.
The exhibition follows on from video recordings by Andy Jackson in 2019. Andy's videos continue to inspire interest in looking after marine wildlife and important seabed habitats.