2023 Fly Fishing Season Starts
Posted: Saturday 11 February, 2023 @ 20:56:10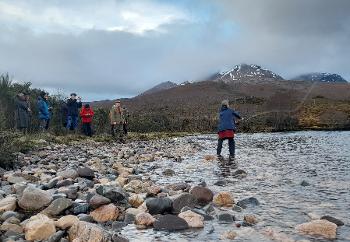 Saturday 11th February 2023 saw the opening ceremony for the start of the 2023 fly fishing season in Wester Ross. Sandy Boyd piped a procession of anglers and well-wishers from the car park opposite the Kinlochewe Hotel to the banks of the the Kinlochewe river where Emma Watson performed the traditional blessing of the waters and Mary Gibson made the first cast to officially open the 2023 fly fishing season. Afterwards Alasdair MacDonald thanked the owner of the fishings for their agreement for the cermony to take place on the Kinlochewe River.
You can watch a video of the ceremony here.
Thank you also to Frank Kalinowski, Tom Forrest for recording the video, and Graham and Eleanor Phillips for delicious soup lunch at the Kinlochewe Village Hall after the ceremony.