WRFT team wins inaugural RAFTS Challenge Trophy
Posted: Wednesday 18 June, 2008 @ 11:11:26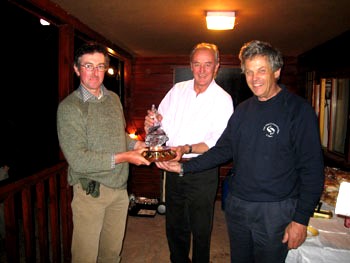 By the narrowest margin, biologist Peter Cunningham and WRFT life member Nicholas Benge were awarded the inaugural RAFTS Challenge Trophy on the banks of the River Tweed by His Grace the Duke of Roxburghe just after 11pm on Friday 6th June. The angling competition for brown trout and grayling was organised by the Tweed Foundation following a very useful workshop in Melrose which considered 'Are Natural Rivers Best For Fisheries'. The workshop was attended by representives from fisheries trusts in Scotland, England and Wales and included discussions about flow regulation, alien species, habitats and riverside vegetation.
Peter Cunningham took particular pleasure in catching a sea trout of 48cm on dry fly using a rod which was half split cane (his grandfathers) and half carbon fibre (the base of which had been sat upon by his dad). This fish, which was not eligible for the competition, spent much of its time in the air after being hooked.
The WRFT team would like to thank Nick Yonge and all at the Tweed Foundation for organising an excellent event. A condition of being awarded the trophy is that the winning trust is required to organise a rematch within 2 years. Watch this space for details. . .