Have you seen a mink (or a water vole) in Wester Ross?
Posted: Wednesday 1 October, 2008 @ 15:10:45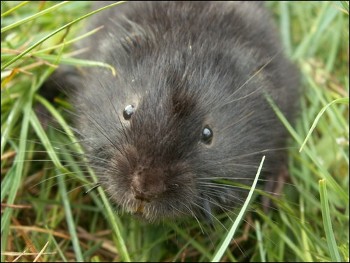 The American mink Mustel vison is non-native to Scotland and the Western Isles. The Water vole Arvicola terrestris is native to the UK, but declining.
The status of mink within the WRFT area is unclear. Click here to see what a mink looks like. Over the past few years, mink have been recorded near Loch Maree, at Attadale (near Loch Carron), and in several other areas. However, population densities to date appear to have remained low relative to those in other parts of Scotland.
Mink can be a direct threat to juvenile fish populations. In the Western Isles, densities of juvenile fish (including trout and salmon) were much lower in streams where mink were present. Mink are also a major threat to ground nesting birds (especially waders on the Western Isles) and their ability to swim has enabled them to reach and devastate tern colonies on offshore islands. Mink are a particular threat to the water vole (above) populations. WRFT field teams have recorded water voles in several areas, notably within the Little Gruinard River catchment area around the Fionn and Dubh lochs.
The SNH and fisheries trusts' mink monitoring and trapping programme aims to find out more about mink occurrence within the area. Of particular interest to the WRFT biologist is the association between mink and pine marten Martes martes. The pine marten is a native, protected animal, and is widespread within the WRFT area. It appears that mink densities are usually only high where pine marten densities are low (see: The Mammal Society website www.abdn.ac.uk/mammal/ ) though SNH have suggested that both species occur together at high densities in Argyll? Are pine martens able to 'fend off' mink or at least limit their spread? It should be noted that pine martens also raid birds' nests, can swim across open water to islands where birds nest, and eat fish carrion. Pine martens are not, however, known for being able to catch live fish in natural situations.
Mink rafts have been distributed to many estates within the WRFT area where estate keepers have kindly offered to help look after a raft and record details of footprints. Please contact the WRFT Biologist or Nicola Talloch, SNH Kinlochewe office (01445 760 254) if you can help with the mink monitoring and trapping programme.
For further information about the mink raft project, please click here or visit the downloads page.