Dundonnell salmon returns to spawn for third time
Posted: Thursday 11 December, 2008 @ 15:24:24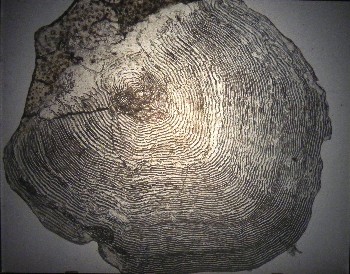 Unlike sea trout, few wild Atlantic salmon spawn more than once. Most salmon, particularly males, die during or after the spawning period and their carcasses provide food for other wildlife, including otters, foxes, badgers and pine marten. (Click here for salmon carcasses study report). The majority of salmon kelts are never seen again after they return to the sea.
Several local estates have salmon stocking programmes where small numbers of salmon are taken each year from the wild and used as broodstock. To ensure that escaped farm salmon are not used, the WRFT biologist reads scales from all fish. Occassionally, a female salmon is found which is returning to freshwater to spawn for a second time.
The scale shown here is from a 76cm long female salmon caught in the Dundonnell River on 22 October 2008. Two spawning marks can be seen (please phone if you think otherwise!), indicating that the fish had returned to freshwater to spawn for a third time. Please click here for high res picture. What a remarkable fish!
Thank you to Alasdair Macdonald of Dundonnell Estate for the scales.