WRFT-FWAG workshop outlines opportunities for SRDP supported habitat restoration projects
Posted: Wednesday 4 February, 2009 @ 13:35:12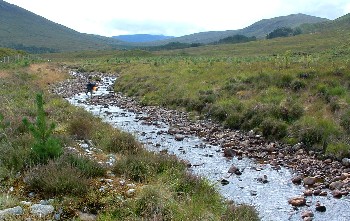 WRFT was delighted to welcome John Robertson from the Farming and Wildlife Advisory Group (FWAG) to explain how the Scottish Government's Scottish Rural Development Programme (SRDP) can support projects to restore and improve habitats for fish production and other wildlife in Wester Ross. The workshop, supported by FWAG and SNH, took place on the 26th of January at the WRFT office in Gairloch and was attended by representatives of local estates and others with an interest in fish habitat improvement.
By way of introduction, Peter Cunningham presented a summary of the habitat related issues that affect the production of salmon and trout in Wester Ross. His presentation 'Improving Habitats for Salmon and Trout Production in Wester Ross' can be found on the the 'Downloads Page' (be warned it has many pictures and as a 25MB PDF file will take several minutes even with a broadband link to download).
John then provided an outline of the SRDP. His presentation 'Water catchment and River Quality Improvement Workshop Gairloch' (which can be downloaded much faster than Peter's presentation) provided an explanation of ways through which the SRDP can support a range of activites that will help fish and fisheries in Wester Ross. This MS Powerpoint presentation includes links to related SRDP web pages.
During the afternoon, particiants explored the SRDP website via a projected internet link. WRFT is now considering a range of options for submitting SRDP applications for habitat improvement works within its area.
A minute of the meeting can also be found on the downloads page. Many thanks to John Roberston and FWAG for the workshop, to Prof Barry Blake for helping to draft the minute, and to all the participants for supporting it.