Invitation to Biosecurity Day, Saturday 16th May, NTS Inverewe Gardens
Posted: Friday 24 April, 2009 @ 16:04:28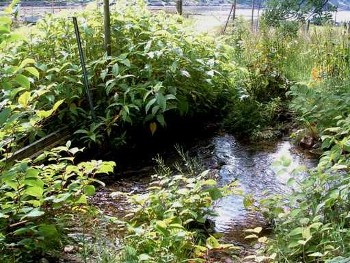 All are invited to the WRFT-NTS Biosecurity Day at the National Trust for Scotland's Inverewe Gardens. The day takes place at the beginning of National Biodiversity week, and is supported by the Scottish Government via Rivers and Fisheries Trusts Scotland. Activities planned include ranger-led guided walks around the gardens to learn about native wildlife and invasive non-native species and the actions taken to control them, bug hunts, pond dipping, children's games, presentation inside a 'yurt', tips for gardening, a sea-shore scramble, and possibly much more.
The day aims to raise awareness of threats to native wildlife from invasive non-native species. WRFT is seeking support for production of the Wester Ross Local Biosecurity Action Plan, to address major threats and problems within the area. Many groups, including the NTS, are already very actively involved with R. ponticum control within the Wester Ross area. If you are also concerned about the spread of non-native plants or animals in your area, and would like to get more involved with actions to control them, we'll be very pleased if you can come along on the 16th.
For further information, please contact WRFT at info@wrft.org.uk.