Salmon and sea trout smolts head for the sea
Posted: Friday 24 April, 2009 @ 16:05:37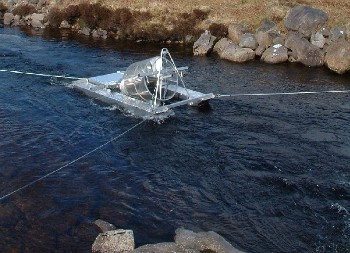 As I write, a skein of 40+ migrating Barnacle geese has just flown low over the office, heading north. This morning I heard a cuckoo for the first time this year; the woods are full of Willow warblers. In addition to birds, the annual migration of salmon and sea trout smolts from freshwater to the sea is well underway. Most smolts migrate to sea at night. Salmon tend to head straight out and on to distant feeding grounds to west of Norway, sea trout smolts linger in coastal waters.
Within Wester Ross, wild smolt runs are being monitored via fish traps at Shieldaig and Tournaig, and 'rotary screw traps' in the River Carron and in the River Ewe (currently being installed – more later). It has been raining today; higher water levels will help salmon smolts on their way to the sea. Already the seas surrounding Wester Ross are full of zooplankton, mackerel have been seen filter feeding within Loch Gairloch, and a Pilot whale has been reported nearby.
If you would like to join an early morning smolt trap checking session, please contact the WRFT biologist at info@wrft.org.uk.