Spring salmon taken in Wester Ross rivers
Posted: Thursday 21 May, 2009 @ 09:07:38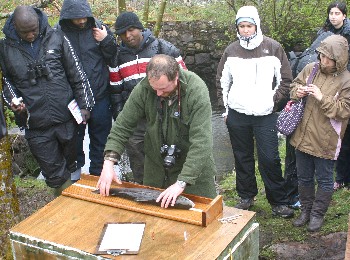 Early running salmon have already been caught in several rivers in Wester Ross including the Ewe and Carron. Spring salmon have become increasingly scarse in Wester Ross in recent years and are the most valuable fish for sustaining local salmon fisheries. All rivers now operate a catch and release policy for early entering salmon and fish are carefully returned.
Most suprisingly, a salmon was taken in the upstream trap at Tournaig on the 6th of May. This is the first fish of any kind recorded in the upstream trap before the month of June since the trap has been in operation. The salmon provided much interest for a party of Environment Science students from Middlesex University who were visiting Tournaig to learn about salmon and sea trout life cycles and the smolt migration.
The fish was released upstream, after recovering from anaesthetic. However, the fish was back in the downstream trap the following morning, so was thereafter released below the traps to head back out to sea. The fish was not as silver as some spring salmon, and may have entered another nearby river earlier in the spring, prior to dropping back out to sea. Such behaviour is known from other river systems as water temperatures rise in May (John Webb, AST Biologist, pers comm.).
Back in the WRFT office, scale reading confirmed the fish to be of wild origin.
The Tournaig trap project is supported by Marine Harvest Scotland Ltd in 2009 - 2010. Many thanks to Tournaig & Letterewe Estate and the National Trust for Scotland for continued support for the project.