Wessex wins RAFTS Challenge in Wester Ross
Posted: Saturday 13 June, 2009 @ 19:36:30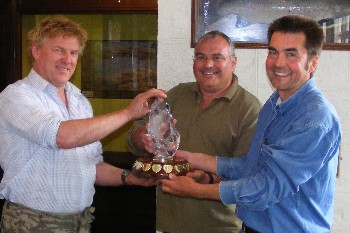 The second Rivers and Fisheries Trust challenge took place over 12th - 13th June 2009. This years challenge included fishing for wild trout and recording aquatic insect larvae in the hills around Loch Ewe and Gairloch. Each of the five teams which entered was allocated an area of three OS grid squares in which to fish. All the lochs fished were local 'ticket waters', on Aultbea, Inverasdale and Gairloch Estates.
With light northerly wind and bright sunshine, fishing conditions through the afternoon were difficult. As the wind died away towards evening, midges rose from the moss testing participants resolve. The best fish was taken by Alastair Lamont from Argyll Fisheries Trust, a fine brown trout of 35cm taken in a small lochan. The RAFTS Challenge Trophy was won by the team representing Wessex Chalk Stream and Rivers Trust, with a catch of ten trout (combined length of 271cm) and 13 different species of insect larvae; a total score of 401 points.
Runners up were the Ribble Trust team of Jack Spees and Mathew Schofield who also caught ten trout (combined length of 215cm) and 13 different insect larvae. They also reported seeing a White-tailed eagle flying overhead, and found two pairs of Red-throated divers on small lochans which were left undisturbed.
Thank you to Nick Thomson and the Loch Maree Hotel for hosting the prize giving, and to all the teams that took part for supporting the event.