BBC Natural World 'Highland Haven' to be broadcast on 3rd December
Posted: Wednesday 18 November, 2009 @ 09:01:47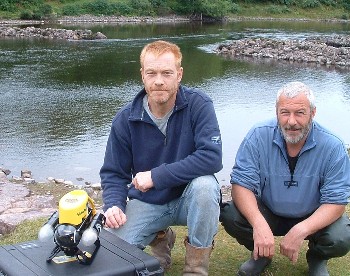 ''Documentary revealing the unique wildlife of the Scottish Highlands, seen through the eyes of filmmaker Fergus Beeley. Based for a year at Loch Maree and the surrounding hills in Scotland's far North West, Beeley presents his personal view of the shy animals whose lives are ruled by the rains. He follows the fortunes of rare black-throated divers and white-tailed sea eagles, red deer and salmon. With an evocative score provided by local musician Phil Cunningham.'' Source: digiguide.
In August 2008 at request of Fergus Beeley, the WRFT Biologist teamed up with Aaron Forsythe and John Sangster of Wester Ross Marine Reserve Partnership to film salmon in the River Ewe. This time last year we were helping to get some of the final shots of salmon spawning in the headwaters of the River Ewe (click here for that story). Needless to say we're all looking forward to the finished programme which is scheduled to be screened for the first time on Thursday December 3rd at 9pm on BBC2.
Check out the BBC Natural World website for final details from late November and any changes to scheduled programme timings. The documentary should be available via BBC iPlayer for several months following first broadcast.