Salmon eggs incubating for Bruachaig restoration project
Posted: Friday 27 November, 2009 @ 12:13:58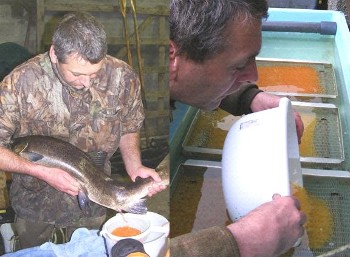 The Bruachaig River is a major tributary of the Kinlochewe River which flows into Loch Maree. Until the 1990s, wild salmon ascended the falls above Incheril and spawned as far upstream as the headwaters in Strath Chrombuill. However, since the 1990s, no salmon of wild origin have been recorded within a 10km stretch of spawning stream above the falls.
To assist the recovery of a wild salmon population in this part of the River Ewe system, Wester Ross Fisheries Trust initiated a project to stock progeny of wild salmon caught in the Kinlchewe River above the falls. Between 5,000 and 30,000 salmon fry have been stocked each year since 2007.
Yesterday we made a start on stripping salmon for the 2010 stocking programme. After checking scales to ensure all broodfish were of wild (rather than escaped farm) origin, eggs were stripped and fertilised. If all goes well through the winter, between 10 and 20,000 fry of Kinlochewe River origin should be available for stocking into the upper Bruachaig again in 2010.
Thank you to Pat Wilson and Frank Kalinowski of Kinlochewe estate for help in getting broodfish, and Philip Smith, Neil Morrison and Simon Stewart at Coulin Estate for providing hatchery facilities. The Bruachaig restoration project is part-funded by the Scottish Government via a grant from Rivers and Fisheries Trusts Scotland (RAFTS) and local fishery proprietors.