Invasive Non-Native Species are spreading in parts of Wester Ross
Posted: Friday 4 December, 2009 @ 17:04:26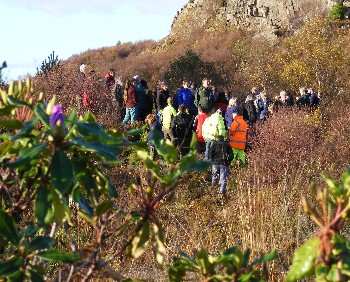 To address problems, two events have been organised:
1. A demonstration and training workshop for the revolutionary new Lever & Mulch method and complementary Stem Injection method for the eradication of the invasive alien plant Rhododendron ponticum is being held on Thursday 21 - Friday 22 January 2010 at NTS INVEREWE GARDENS. Training will be provided by Donald Kennedy and Gordon French of Morven Community Woods and Rob Dewar of NTS. Numbers of trainees are limited – pre-booking is essential.
2. To launch the Wester Ross and Lochalsh Biosecurity Action Plan, a seminar and debate is being held on Thursday 21st January at Poolewe Village Hall from 7:45pm – 10pm. Presenters will include Peter Cunningham, Rob Dewar and Dr James Merryweather. What are you views about the spread of INNS and efforts to control them? The debate will be recorded for Two Lochs Radio. Come along and have your say!
Please contact Peter Cunningham at WRFT on 01445 712 899 / 01445 771 206 / 07786 836 003 or info@wrft.org.uk if interested in participating. Further details will appear shortly at www.wrft.org.uk. For information about the 'Lever and Mulch' method, please follow links at www.slef.org.uk. Further information on INNS can be found at www.invasivespeciesScotland.org.uk and via the link at www.highlandbiodiversity.com .
The draft Wester Ross and Lochalsh Biosecurity Plan can be found on the downloads page or by clicking here.